"Teamwork is the ability to work together toward a common vision. The ability to direct individual accomplishments toward organizational objectives. It is the fuel that allows common people to attain uncommon results." – Andrew Carnegie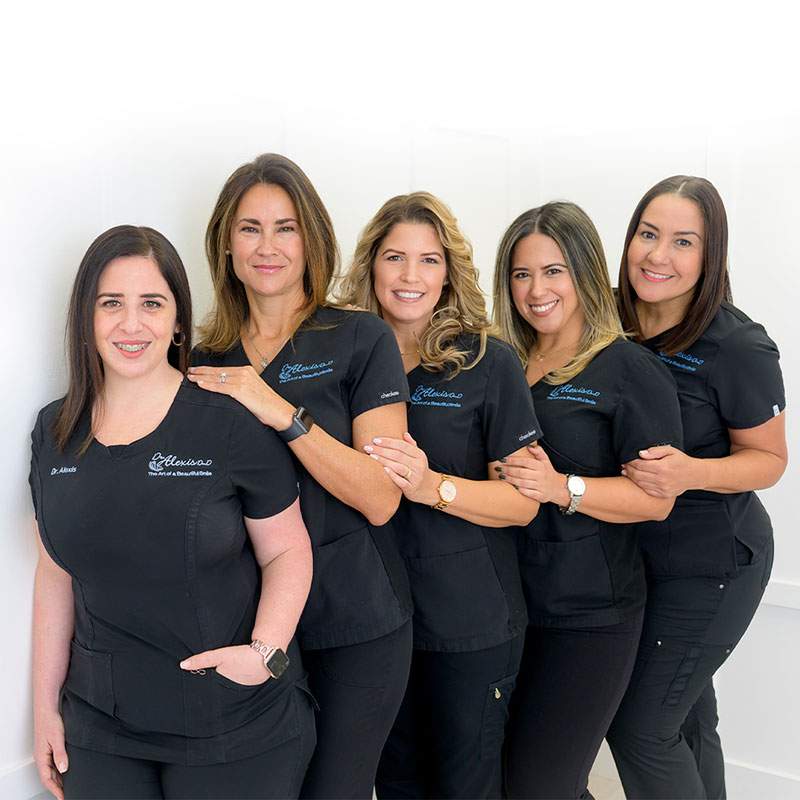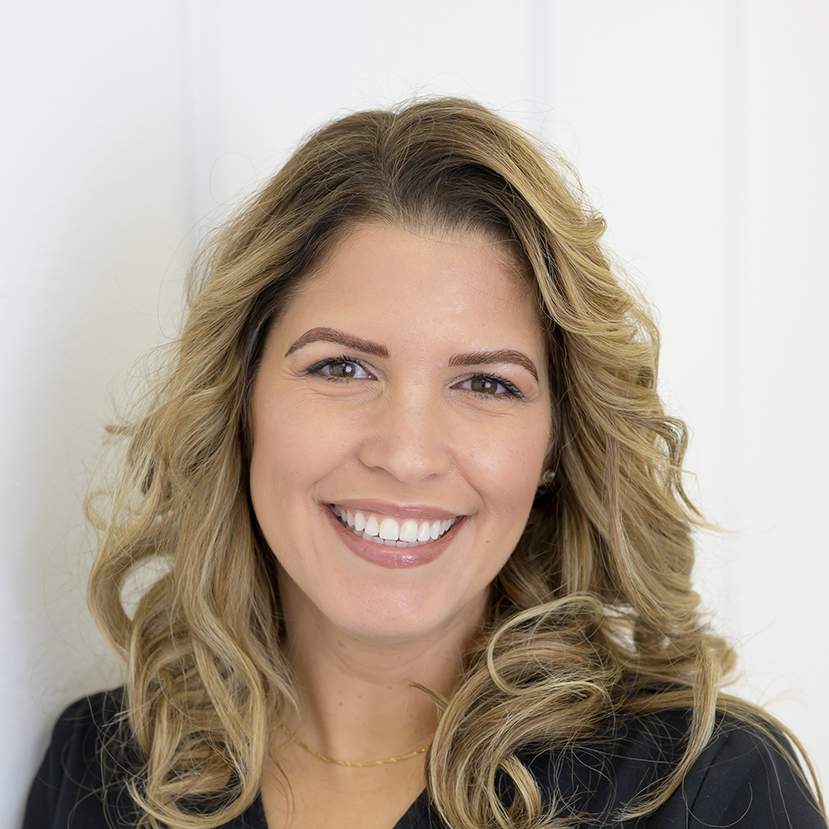 At Dr Alexis DMD we are passionate about what we do. We love working with people and creating beautiful healthy smiles. Ensuring that every patient leaves with the satisfaction that they received the the most comfortable and personalized care.
Our staff makes sure to continue their education in the dental field to stay on top of the newest dental techniques available while providing our patients with state of the art dentistry.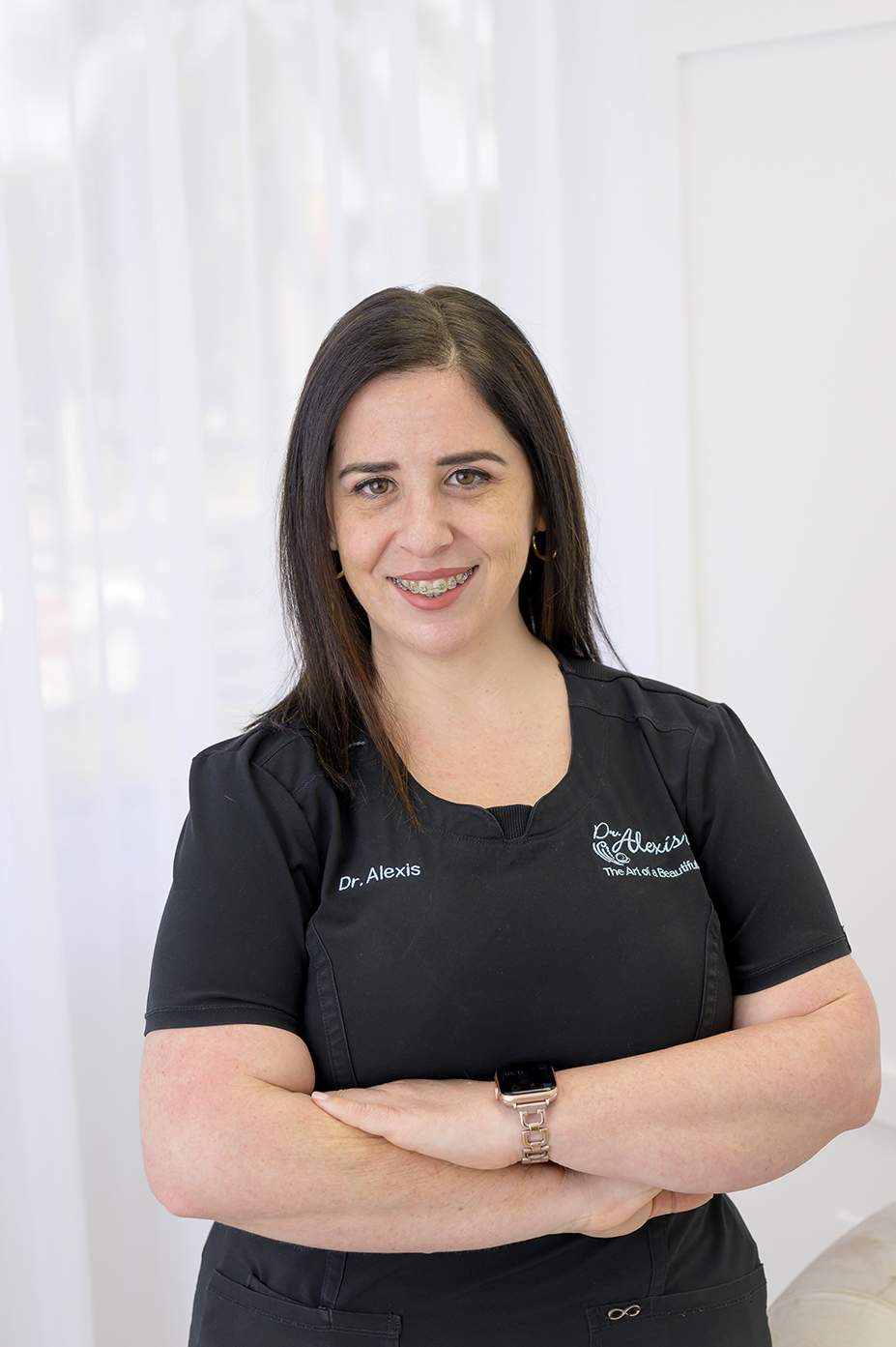 Born and raised in Long Island, NY, Dr. Alexis Glaser obtained her Bachelor of Science degree in exercise and sports science from Tulane University in New Orleans, LA. Upon completion of her undergraduate studies, she enrolled in Nova South Eastern University to pursue her graduate studies in dentistry. As a member of the Academy of General Dentistry, Florida Dental Association, American Dental Association, International Academy of Oral Medicine and Toxicology, and the International Association of Comprehensive Aesthetics, Dr. Glaser has made a commitment to developing her thriving dental practice. Her passion for dentistry has led Dr. Glaser to attend at the prestigious Las Vegas Institute (LVI), one of the premier postgraduate dental training centers in the US. At LVI, Dr. Glaser is concentrating on neuromuscular dentistry, advanced cosmetic dentistry, and state-of-the-art dental techniques. She has also invested a lot of time and dedication to becoming a Complete Health Dentist.
Dedicated to her patients and practice, Dr. Glaser has a deep connection to the art of dentistry and sharing the best that dentistry has to offer. She is continually educating herself and her team by learning and applying ground-breaking dental techniques and approaches in order to offer patients state-of-the-art, comfortable, and personalized care.
When she's not creating healthy smiles, Dr. Alexis enjoys spending time with her son. Going for walks, bike rides, painting and getting her hands dirty with the latest DIY project. She finds real joy in the simpler things and slowing down the pace of life for what matters most.
For almost 20 years, Nely has been a noteworthy leader in dentistry. You may know her as the office Manager at Dr.AlexisDmD and/ or "The one who's in charge of everything!!" Jokes aside, she takes great joy in handling all our practice and patient needs. From being in the front lines answering phones and scheduling appointments to ensuring everything runs smoothly administratively. Her focus is making sure every patient's experience is comfortable and personalized. Her dedication has led her to numerous certifications and continuing education courses, including the respected Las Vegas institute, Influential MGE and is a Complete heath dentistry advocate. She has been honored with the "CHD 2014 Team leader of the year" award and is continuously rising to the title. When she is not at work, Nely loves to sing and show her dedication to her friends, family, and church. She enjoys travel and experiencing new sights, foods, and cultures. As a native Miamian, she is fluent in English and Spanish and is always ready to serve. If you or loved ones need anything, don't hesitate to ask Nely!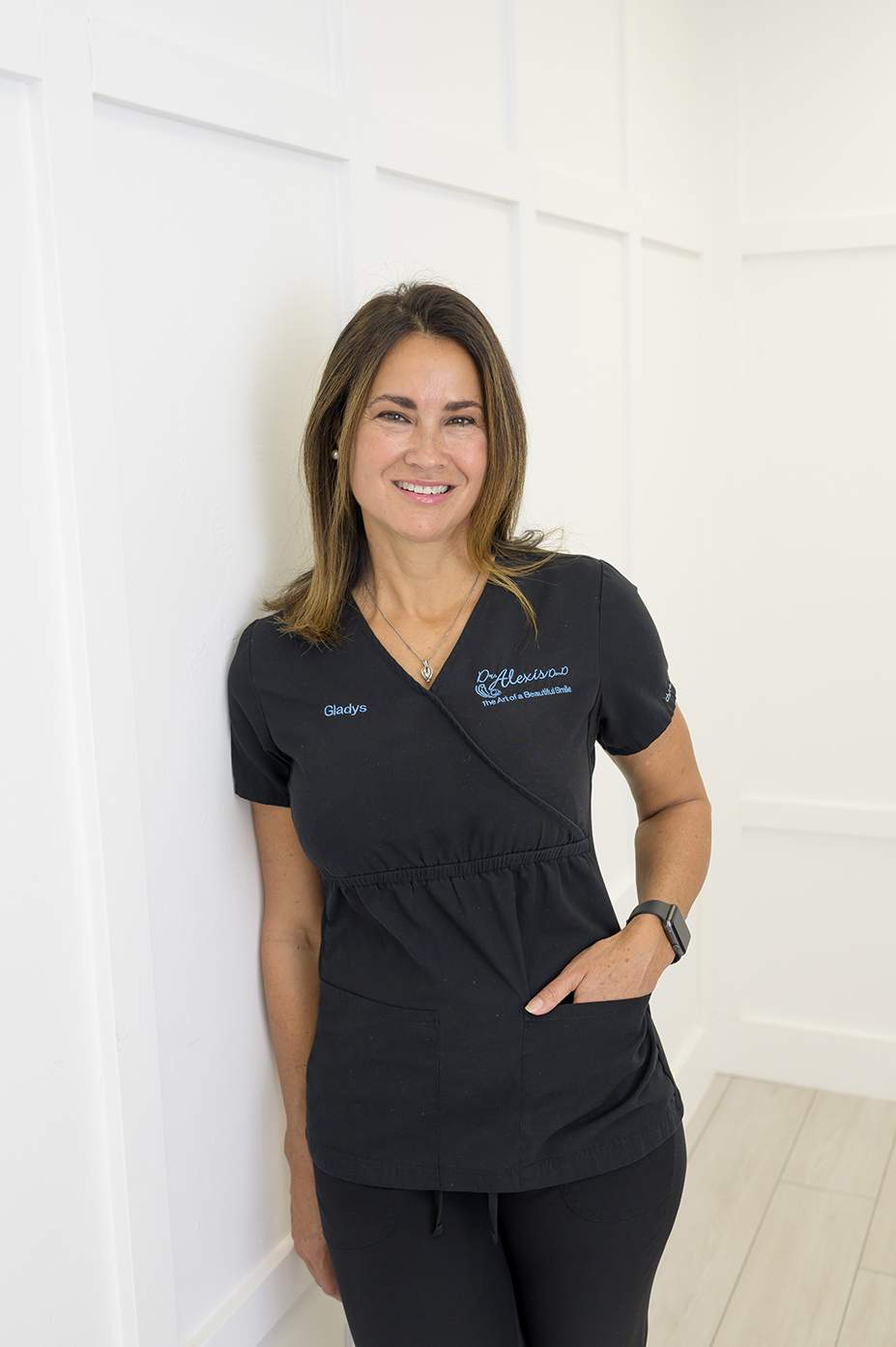 With almost 15 years of experience, Gladys has been working side by side with Dr Alexis. Accruing an arsenal of skills & certifications at countless of courses. She is trained in Neuromuscular, Sedation, Complete health, Aesthetics and so much more. Her lighthearted demeanor and attention to detail make her the perfect Dental assistant to Dr Alexis. Together they ensure every patient's experience is comfortable and thorough. Gladys is an integral part of the DrAlexisDmD team and because of her, many If not most, Patients become family. When she is not at work, Gladys loves to spend time with her family, cooking delicious meals, going for motorcycles rides, cruising on the boat, and traveling. Full of life and knowledge she is here to help ease your anxieties associated with any dental procedure or simply to help you smile!
Cristina earned her Bachelor of Science at St. Vincent of Paul in Panama City & completed Dental School at University of Panama, where she was born, raised and practiced dentistry for many years.
In 2003, She came to live in the United States and completed her degree in Dental Hygiene from Miami Dade College.  She has been working with Dr. Alexis since 2016. Mostly, known for her lively personality, gentleness, and determination, she has helped patients be and stay healthy. When she's not at Dr. Alexis DMD, she also helps serve the community as a hygienist in other practices. Cristina loves to travel and spend time with her family. Her patience and tactile skills also allow for a love of things like creating floral arrangements and arts and crafts. Her heart is in helping others, making her a key member of our team.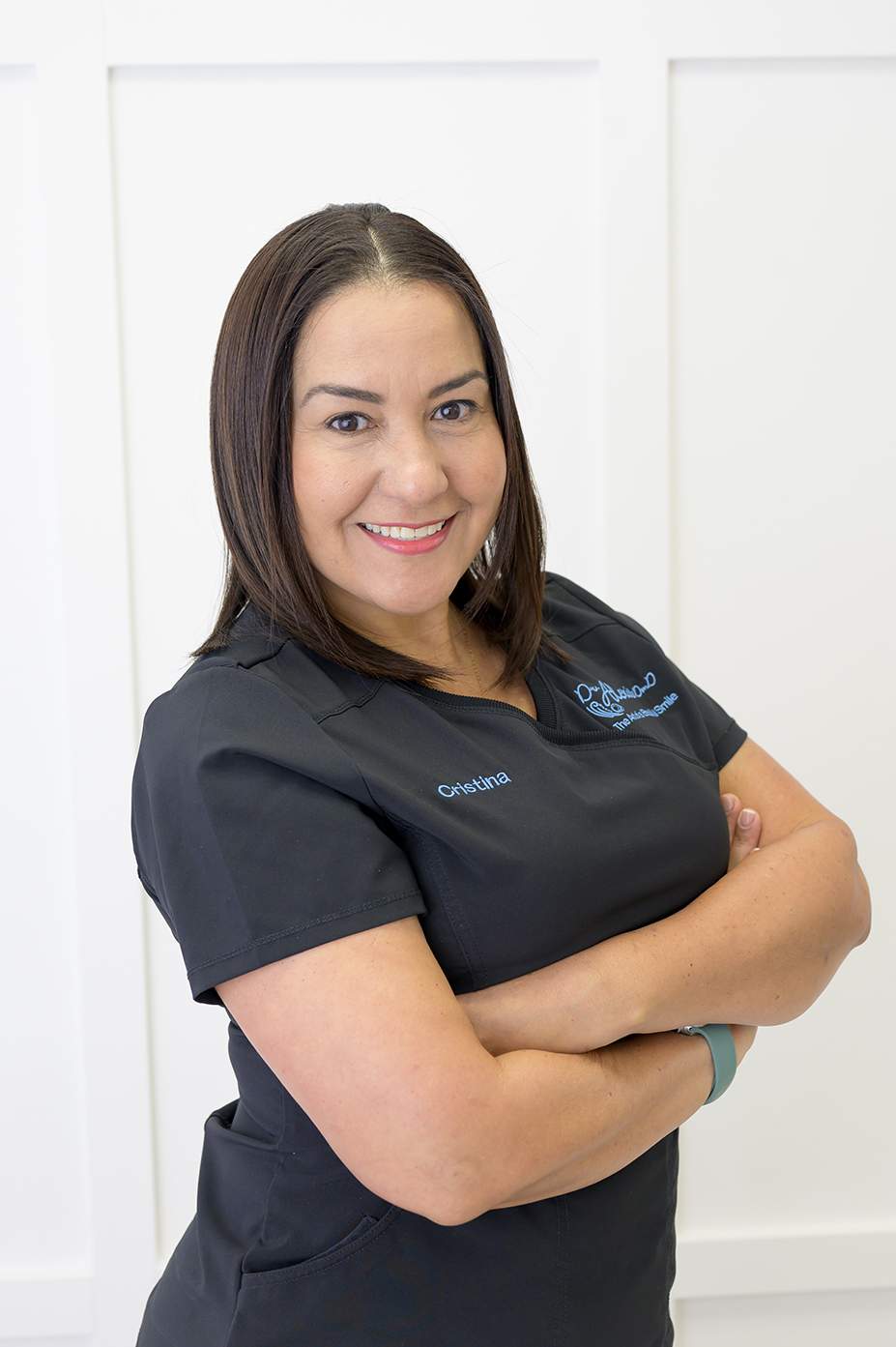 Born and Raised in South Florida, Janet attended Miami Dade college and graduated in 1996 with a degree in Dental Hygiene. She has been practicing ever since and joined Dr. Alexis in 2008. She loves her patients! Janet is caring, thorough, and has gentle hands. Her organizational skills and attention to detail have enabled her to establish long term care for the patients at DrAlexisDmd Along Dr. Alexis' side, she has gained vast knowledge of Complete health, Mercury free, Sedation practices, Neuromuscular dentistry, and Periodontal care. When she is not at work, Janet is a full-time wife and mother of three. Wildly creative, she enjoys gardening, time with her family, crafts and taking on the toughest DIY projects at home.